Testimonial Page
If you've enjoyed your experience with Exquisite Limousines then why not leave a comment to let others know what you think about us.
to leave a review and have your picture displayed on our website.
Testimonials
Kids Pink Party Limo
"Samantha has a fantastic Birthday party & the limo was perfect. The service was first class & I would not hesitate to use the company again."
Samantha's 7th Birthday
Glenrothes, Fife
Pink Birthday Limo Edinburgh
"Booked the pink limo for my daughters 10th birthday, had an excellent time. Limo was great and great value for money. Driver nice too, would definatley recommend and will be using again. thanks"
Eileen Whyte
Currie, Midlothian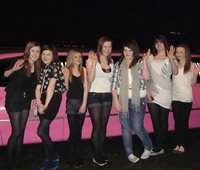 Birthday Limo Hire
"Limo was amazing, Alistair your a ledge! thanks for the best birthday EVER!!!"
Georgia's birthday!
Rosyth, Fife
Pink Limo For 6TH Birthday Party
"We had a great time in the limo, it was for my daughters 6th birthday and her and her friends loved it! The driver was lovely and very accomodating , would definetely use again!"
Abbie's Party
Tullibody, Clackmannanshire
Pink Limo For 13TH Birthday In Edinburgh
"Mollie's 13th Birthday Party! I hired the pink limo as a surprise for my daughters birthday, the girls had an absolute ball, the driver was great, would book then again!"
Angela Smith
Edinburgh, Midlothian
Night Out In Dunfremline
"What a fabulous start to a girls night out in Dunfermline. Great Service, would book again."
The Dublin Girls
Dunfermline, Fife
Black Limo For 60TH Birthday
"Had a brillant night Sandra's 60th birthday treat was the best. Would book again driver was great (even put up with our rubbish singing)"
Sandra's girls
Dunfermline, Fife
12TH Party Limo
"The pink limo and driver were fantastic and the girls had a great time. We wouldn't hesitate to use you again. Thank you!"
Becky Winton's 12th Birthday
Glenrothes, Fife
Pink Wedding Limo
"After hiring both limos for a night out a few months ago I decided to hire the pink limo for my wedding. It was the best and made my day very special."
Lynda Martin now Elliott
Edinburgh, Victoria Park House Hotel
Wedding Car Hire
"Hi, we hired the black Limo for our daughter's wedding in July this year. We have to say that the vehicle it's self was amazing & the service that we received was 2nd to none. We intend to use Exquisite Limousines next year for our own wedding. Thanks guys."
Gordon Campbell & Julie Gray
Crook of Devon, Perth & Kinross
Birthday Night Out In Edinburgh
"The service was great, limo driver (Alistiar) was top class!! Bottle of bubbly was a bonus at the start of the night & being able to bring our own drink was superb! Singstar was a laugh even though we used the mic to get as much attention from passers by. Interior was gorgeous & the place we stopped off for pictures was a great location too. In the future we will be using this company again as everyone enjoyed the night. :) (Great start to any night out)"
Very nice, how much ??
Edinburgh, Midlothian
Dunfermline Wedding Limo
"I hired the limo for my sister's wedding, the car was decorated lovely and the driver was great. Would definitely recommend to other people."
Helen Mckellar
Dunfermline, Fife
Birthday Limo Kirkcaldy
"Great for that 'really special day'. Driver did a great job with a drive around the area before we went for a meal. The kids felt like pop stars singing on the Karaoke and loved every minute! Highly recommended!!!!"
The Stevensons
Kirkcaldy, Fife
16TH Birthday Limo
"Hired the black limo for murrays 16th birthday. Thanks for giving the boys a brilliant night and a special thanks to the driver who made the night special the boys are still talking about it."
Evelyn clunie
Cupar, Fife
10TH Party Limo
"We hired the fabulous pink limo for Cara's 10th Birthday and had a ball - she and her friends all thoroughly enjoyed the experience singing along to the karaoke and feeling like celebs for an hour. The limo was gorgeous with pink balloons on the floor and Alistair was so helpful and obliging. Would thoroughly recommend it as a birthday or special occasion treat. He even took photos of the girls for me at South Queensferry!"
CARA GRAHAM'S 10TH BIRTHDAY
Dunfermline, Fife
Pink Limo For 8th Birthday
"The kids had so much fun in the pink limo for Demi's 8th birthday. After being picked up from school its all the kids keep talking about. Will definitely use Exquisite again, the limo and driver were great !"
Kelly Nicol
Kincardine, Fife
13th Birthday Limo
"Excellent service, me and my friends had a great time in the pink limo, driver was great... sorry for the bad singing!"
Rachel's 13th birthday
Glenrothes, Fife
End Of Term Limo
"Hey thanks for friday the 2nd of july , All the kids had a great time in the black limo for their school prom and really enjoyed singing along to the singstar karaoke on the playstation 3."
Nicola & Andrew Skirving. X
Kirkcaldy, Fife
Buckhaven Primary School Prom
"My daughter had a fabulous time in the black limo. The kids enjoyed the hospitality drink, music, karaoke and the smoke machine was crazy. The driver also stopped to take a few pictures for the kids, which was nice."
S Cobban
Buckhaven, Fife
P7 Prom
"The girls thought the pink limo was a amazing! Best day ever and they loved the smoke machine!! Thanks again for making their last day at school one they will all remember."
p7 to s1
Carnoustie, Angus
Primary School Prom
"Hey! Thanks Alistair we had a great night, the black limo was awesome and we liked the karaoke aswell !"
Libby Primary Group :)
Edinburgh
Hen Night In Fife
"Pink and black limos were hired for Leanne's hen night, it was brilliant...thanks for an ace night!!"
Leannes hen night x
Cardenden, Fife
10TH Birthday At Pizza Hut
"Hired pink limo for my daughter Rachael's 10th Birthday. She and her friends had an amazing time and loved every minute of it."
S Mercer
Kirkcaldy, Fife
Pink Limo For 13TH Birthday
"Hired the pink limo for my daughter's 13th birthday and all the girls loved the experience. The driver had the patience of a saint with all these girls screeming with excitement. The limo was gleeming inside and out."
Brooke's 13th Birthday
Dunfermine, Fife
Pink Party Limo
"I hired the pink limo for my 18th birthday, it was amazing and driver was brilliant and sexy lol."
Ashley Keith
Oakley, Dunfermline
50th Birthday Limo
"My friends hired you for my 50th birthday. Fantastic surprise and first time in a limo! It made my birthday very special. The limo was lovely and so was the champagne. You were very attentive and thoughtful and would highly recommend you. Thanks very much we had great fun - apologies for the bad singing!"
Marie
Dunfermine, Fife
Dad's 60th Birthday
"Hired Exquisite Limousines for my dad's 60th. It was fantastc, we all loved it. Everything was perfect from driver to bubbly. Thanks a million Alistair for moking it a night to remember for my dad. X X X"
Jennifer Abbott
Dunfermine, Fife
9th Birthday Limo
"The girls loved every minute in the limo and it was everyones best bit of rebeccas birthday party. The driver was brilliant with the kids, they had so much fun singing along to High School Musical on the karaoke machine and didn't want it to end. "
Vikki Adams
Edinburgh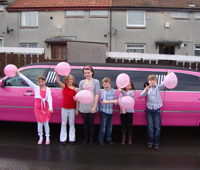 Pink Limo For 8th Birthday
"Hired the pink limo for my daughters 8th birthday. Lisa and her friends all had a fabulous time with all the laser lights and singstar Karaoke. Had to stop them screaming so much so apologies to the lovely driver if his ears hurt a bit after it!!! Would definitely recommend Exquisite Limousines to anybody looking to hire a limo."
Lisa's Birthday Party
Glenrothes, Fife
Odeon Cinema Party
"The Girls had a great day out in the Pink Limo - Caitlin's 12th birthday surprise!"
Caitlin Gaughan
Dunfermline, Fife
Pink Limo For 13th Birthday
"Thank you so much for making Hayleigh's 13th birthday a night to remember. Thay had a ball in your pink limousine and are already planning the next special event that they could have!!! "
Nicky, Phill & Hayliegh Corletto
Stephanie's Birthday
"Most amzing night ever in the pink limo:) We didn't want to get out! Had it twice now and going be a third in april. My birthday was the best night ever thanks."
Stephanie
Burntisland, Fife
Night Out In Edinburgh
"Leeanne's leaving night !!!!!!!!!!! Soooooooooo much fun i want to be driven in it everyday because it's so beautiful and so is the driver !!!! xxx"
Leeanne's leaving night
18th birthday Limo
"My mum hired the pink limo for my 18th, it was a brilliant night and Alistair the limo driver was good with us all. It made my night! Totaly amazing and well worth the money. Will be booking you again!! Thanks again Alistair xx."
Sarah Glass
Glenrothes
Sweet 16th
"I had the pink limo for my 16th birthday. Alistair was brilliant, My friends and i loved it. The limo was a high standard and i would highly recommend Exquisite Limos to anyone. "
Kirsty Wishart & Team
Auchtermuchty
18th Party Limousine
"Thanks for a great night! Fantastic service! Loved the pink limo as it was for my 18th! Ill definitely be booking with you again! "
Emma Thomson
Edinburgh
Birthday Limo
"I hired the pink limo for my birthday and it was fantastic! Everyone had a really great time and the limo and driver was brilliant!
Thank you!"
Lauren Judges
Auchterarder
Lauren's Quiz Night
"Lauren would like to thank you very much for your generosity in donating an hours limo hire as a prize towards her Cancer Research Charity Night which was held on Saturday 31st October 2009.
The event was very well attended and Lauren raised the magnificent sum of £1,600 to give to this very worthwhile charity."
Lauren Riddel and all her family
Cairneyhill
Grannies 80th Birthday
"We had a great time in your Limo, its what our 80 year old Gran wanted, a pink limo. She and we had a great laugh with some nice champers poured by our driver. Thanks Alistair for your polite manner, sleek driving and for making our Gran's Birthday."
Helen Little and Family
Glenrothes
50th Birthday In Edinburgh
"We hired the pink limo for 2 hours taking us through to Edinburgh for a friends 50th. Had an absolute ball in it! Alistair the driver was superb! lots of patience with us stopping and starting. Will definitely be booking again and recommending to all our friends. Had great night. Thanks again Alistair."
June Crookston
Methilhill
Kirkcaldy High School Prom
"Thanks So Much For Making A Great Night Even Better!!! The Service Was Amazing And Everyone Had A Great Time Inside The Limo,, It Was Fab! Especially Singstar Lol... Sorry If We Were No Good Tho!! Just Thought We Would Leave A Message To Say Thanks Very Much For Making Us Arrive In Style To Kilconquer !!"
Jacqueline Wood
Kirkcaldy
Primary School Prom
"A very big Thank You to Scott (The Driver) of the Pink Limousine who was very courteous and friendly. The girls thoroughly enjoyed their time in the limousine, it really made their night. I would highly recommend Exquisite Limousines. Thanks Again!"
Kinross primary girls
Kinross
50th Birthday Celebrations
"Just wanted to say thank you so much for last wednesday, for putting up with the bad jokes and awful singing (?!), for taking the detour along corstorphine. You may have noticed we had a ball and the surprise trip to Edinburgh Castle was fab. Thanks again, please have a drink on me. I will definitely recommend 'EXQUISITE'"
Liz X
Cairneyhill
50th Birthday
"Hired the black limo for my mums 50th birthday!!! It was fabby, had so much fun!! Will defo hire it again!! Thankd for a great night!!!"
Lindsey Macrae
Kirkcaldy
40th Birthday Celebrations
"I hired Exquisite Limousines to take me & my party to and from Edinburgh as part of my 40th birthday celebrations. The car was classy, clean & the service was punctual & professional. Would definitely recommend & use again."
Jill
Kirkcaldy
Surprise Birthday
"My mum hired you as a surprise for my 16th. The sound system was incredible and everyone enjoyed themselves. :) Have already recommended you to other family and friends."
Jane Williamson. :)
Kirkcaldy
Anniversary
"I, my wife &amp 2 friends were treated with exceptional hospitality on our trip to Edinburgh for our Anniversary. After a few chants at karaoke we were all in the mood once we reached our destination. Exeptional patience and attitude, we were all treated like royalty. All the very best in your buisiness and we will be using you again. Kind regards."
Mr & Mrs Pete Munn
Cardenden to Edinburgh
Birthday
"I hired you for my husbands 50th, we had a great time in your black limo with friends. You took us to the bridges for photos and then on to the surprise party we had for my husband. It was a James Bond theme night so the Limo just got us all into the mood. Thanks again for your attentiveness and all the best in your buisness."
Lindsay Anderson
Edinburgh
Birthday
"My mum and dad hired the limo as a present for my 20th and everyone had a fantastic time. The sound system was excellent and the service was top notch and very professional. If you want to guarantee a good time i would definately recommend booking with Exquisite Limousines!"
Jenny's 20th
Cairnehyill
Airport Transfer
"Been in many limos, this one rates up there with the best. Great service, comfy and punctual. Will definately be using again."
Andrew Kerr
Dunfermline
Hen/Stag
"Surprise booking for my hen night from family, brilliant night! Would definitley recomend to people for nights out!"
Karen Schulz
Kelty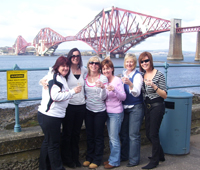 Birthday
"Recently hired your limo for a group of women celebrating 40th birthday. Best money we ever spent and Alistair made the journey even more enjoyable. What a great way to start and end our weekend visit to Edinburgh. We'll be back."
Corbett
Edinburgh